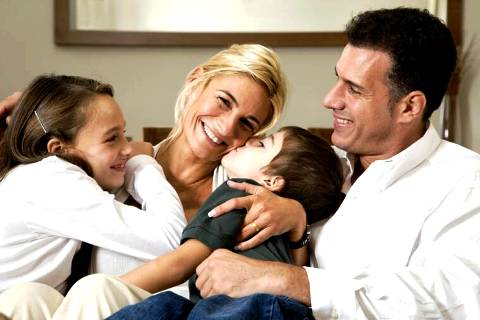 Who doesn't want to have harmonious relationships with members of their own family? As much you and your spouse love each other, obligations, children, and perhaps some family issues can result in you not being as close as you used to be. When you're close with your family, it's great for all members – kids grow up knowing that they're loved, and spouses remember their love from the time when they just started dating and first fell in love. If you spend time with your family doing meaningful activities, you'll become more open, calmer, and more self-confident than ever before. Give a try to some of these activities they will help you strengthen the family bonds and at the same time grow your self-esteem.


Be a tourist in your own town
When was the last time you organized a family trip to a local museum or art gallery? When we go on a vacation we take time to visit galleries, museums, and theatres, but we seldom do it in our own town. Dedicate one weekend to exploring your own city: pretend you're tourists, take plenty of photos, and try to find out as much as you can about your town's history. This is an easy activity that involves both learning and moving around, and it's perfect for families with young children who love to run around and find everything exciting. After a fruitful day with your spouse and children you'll feel happier and calmer.

For night owls
Night is the time when children sleep and parents finally have time for themselves. On the other hand, children long to stay up longer and they can drag to their beds in their PJs for so long, that you wish to just let them stay up longer. This is why every now and all of you should try some nighttime activities which don't involve gadgets and TV. Try stargazing or go for a simple walk around the block after dark. Night is romantic, you will feel isolated and it will be a nice chance to hold hands with both kids and your spouse, and an ordinary walk will turn into a completely new experience for all of you at night. Stay safe: wear the right clothes for night walks, and make sure you have lamps so you can see where you're going.

Prepare and share a meal
It seems like we're always in a hurry, and all our meals have become short and boring. We don't really enjoy eating anymore, and we seldom take time to savor the taste of the dish in our plate. As a family, prepare dinner and eat together, without mobile phones and TV, and without ordering pizza. Each of you should do something to contribute to the meal, and when you sit down, try talking about your day, all of you. As a parent, you feel the need to teach your kids about life, but it's equally important to be an active listener. Talk about your day and your plans, but learn to ask the others about their day and their plans. You will all feel different after such evening, feeling like you've learned something new about your family.

Make moving a bonding activity
Moving from one place to another is incredibly stressful on all family members. All the legal matters to take care of, and all those people we leave behind, can make moving into a nightmare. It is especially difficult for kids to adjust to new place, and so they hesitate, drag themselves from one room to another, and generally feel depressed. In order to make the move as stress-free as possible, turn it into a game. Do your own packing: ask kids to help you label all boxes and ask their help with packing. Instead of driving with dozens of boxes, find a company specialized in big and small removals from Sydney to take care of that for you, and use that time to play with your children in an empty house.

Make mosaics
One of the best and easiest family activities are mosaics because you virtually cannot make a mistake with them, and you can also use pretty much any material: from old CDs and china plates, to newspapers. Together, talk about what you'd like to make: a photo frame, a decoration for your garden, or a decorative piece for your living room; get material and get going. When you're doing a creative project, you get a chance to do something with your hands and talk about it. You learn to work together, and creative work and discussion are good ways to encourage release after a stressful day.
Communication and honesty is what keeps a family together, and if you want to be close to all members of your family, children and spouse alike, you need to communicate openly. Still, it's not all about talking; sometimes you need an activity to help you open up and have something to start a conversation. Family bonding time will help you all mature and grow, kids and parents alike, and when you look back you'll see how important all those small fun projects and group of activities were for you all.

Stay updated on new articles and resources in psychology and self improvement:
Related posts: