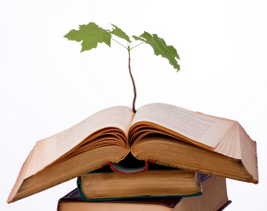 When we look back on our lives, we often aren't watching a perfect recording of what has happened to us.
Instead, our brains are creating a story. Certain memories immediately stand out to us more than others, then our brains find meaning in those memories and transform them into a coherent narrative of events.
Our brains are "meaning-generating" machines. We don't just observe our world, but we add meaning to it. We can't help but look back on our past and think, "This happened in my life because of X, and then that led me to Y."
We all tell ourselves these stories whether we realize it or not. Some people try to take conscious control of these stories through cognitive therapy, where individuals work on finding new meaning in their past, present, and future.
There's a great book that just came out called Step Out of Your Story which teaches you step-by-step writing exercises you can do to reframe your stories and find new meaning and insight in them.
It shares really interesting exercises in introspection, and provides a practical way for you to dive deeper into your story and begin taking conscious control over it. The book includes a healthy combination of both "cognitive therapy" and "writing therapy."