[adsense_id="3″]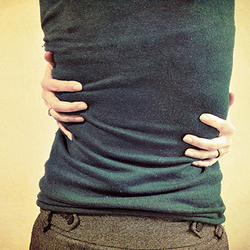 Kelly McGonigal, a health psychologist at Stanford University, recently wrote about a study that suggests we can reduce physical pain by hugging ourselves.
The study included 20 participants who willingly received small pulses of pain by an infrared laser. The researchers found that during trials when participants had their arms crossed in front of them they reported less pain. Each participant was also hooked up to an EEG, in which brain scans showed smaller spikes of brain activity during those same trials.
Neuroscientist Giandomenico Iannetti from University College London suspects that when we cross our arms in front of ourselves this confuses the brain when processing tactile stimuli. In a way, it redirects our attention from the source of pain to this other tactile overload, which can often help reduce pain. It's similar to when you pinch yourself in order to distract yourself from another long-lasting and irritating sensation somewhere else in the body. Of course, the lift is usually very temporary, but it does work.
Kelly McGonigal mentions in her article how she prefers the crossed arms position because it mimics the act of giving yourself a hug and expressing self-compassion. That makes me wonder if the intention of giving oneself a hug would lead to even greater reductions in pain. I'd also like to see future research testing to see how this generalizes to psychological pain as well.

Join my newsletter for more!