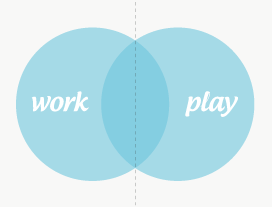 Many who study productivity know the balance that needs to be maintained between work and play.
Work without any play can become mundane, tedious, and non-fulfilling. But play without any work can become aimless, misguided, and unproductive.
Whether we are at work, school, or home, we should find ways to integrate playfulness and curiosity to help fuel our creativity, motivation, and commitment to whatever it is that we are doing. And although it's been said many times before: when we are passionate about what we do, we are more likely to develop a focus that yields the best results.