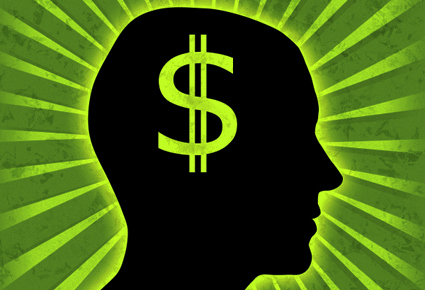 One clinical psychologist in Atlanta recently wrote a call to action (PDF) saying money has become an unhealthy taboo in psychotherapy.
The main point of the essay was to say that financial troubles, especially in a rough economy, can become great sources of stress, anxiety, and depression for many individuals; and this can often be an overlooked aspect of mental health. In addition to stresses and anxieties, many individuals develop dysfunctional attitudes toward money, some of which could be considered forms of mental disorders, now coined "money disorders."
Klontz and Klontz suggested a range of possible money-related disorders in their book Money Over Mind. These included money-worshiping, rooted in the belief that more money provides the answers, which can lead to such behaviors as overspending, compulsive buying, unreasonable risk-taking with money, pathological gambling, hoarding, and workaholism; and money-avoidance, which includes "behaviors such as financial denial, where denial is used to defend against or minimize money problems, or financial rejection where feelings of guilt or unworthiness are associated with money." Avoidance disorders can also include under spending and excessive risk-aversion.