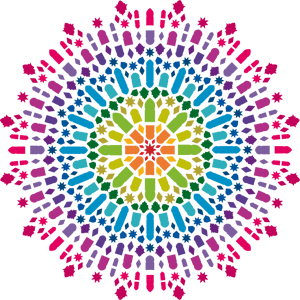 A couple days ago I asked people on Facebook, Twitter, Reddit, Tumblr, and LinkedIn to choose one mantra for the new year. Here are some of the responses I got.
Feel free to share your own mantra in the comment section below. I'll add my favorites to this post.
"I love." – Laurie Birdsong
"Be." – Alan Garcia
"The best is yet to come, live furiously!" – Hope Martinez
"This too shall pass away." – Dave Harbud
"Endure, you are on the right way." – Luis Castro Quiros
"Live 'till your life is consumed, happiness will bring complacency, sadness will bring depression. Choose to be wise." – Abqur Hijan
"Love oneself." – Fior Maria
"Only within myself will I find the necessary means." – Pamela Ann Mardis
"No new mantras." – VonWin
"Everything in life is only for now." – Avenue Q – wirednyte
"Gone. Gone. Gone beyond the idea of going. So be it." – Heart Sutra – sdbear
"Serenity now." – Lumen_Biggs
"…Insanity later." – Freywin
"Wonder." – danglydolphin
"All you need is love." – ddshroom
"The most excellent struggle is that for the conquest of self." – Bukhari – 777lucky777
"I'm going to do it big, I'm going to do it real big." – Majik MC
"Make your own luck." – Bryan's Weblog
"Nothing is beyond your reach." – Upsidedown Shoes
"Endurance is one of the most difficult disciplines, but it is to the one who endures that the final victory comes." – Buddha – Ravenous Soul
"To thine own self be true." – JustKeepGoing84
"Never back down." – Evolution-Dust
"Growth." – Lauren Kablis
"Everyday, in every way, I am getting better and better." – Emile Coue – Brain Motivation
"Reduce the pressure and just believe in myself." – ChasingTheLastTrain
"Do more, say less." – sterup
"Life is short, make better decisions." – Love_Is_A_Place
"Breathe deeply in the silence, no sudden moves; this isn't everything you are." – Snow Patrol – richardjwaters
"Go hard or go home." – KwashiraiKarima
"Be mindful, be bold, disrupt!" – StephanLiozu
"The answer to every question is KNOW." – LIHTCguy
"LET'S DO THIS!" – CateyeMinty
"Trudge." – recovery_cards
"Pretend the water is champagne. And fill my glass again and again." – Howard Jones ("Life in One Day") – DRJ1960
"Be hopeful." – jacoyork
"Karma." – Getafix365
"Follow your bliss." – SaltySmile
"Frolic boldly." – MoveByWillAlone
"If it's to be, it's up to me." – tiffanysparkles
"What am I feeling?" – ryukan2
"Appreciate the things you already have rather than dwell on the things you don't." – chloezone
"I would use the Hebrew word 'shema.' It means 'hear.'" – Rabbi Dr. Dan S.Wiko
"'OM TARA.' Tara represents the female energy and said to evoke compassion, strength and healing." – Theresa M. Finer
"Our greatest fear is not that we are inadequate, but that we are powerful beyond all measure." – Marianne Williamson – Vanessa Bezbrozh
"Breathe." – April M. Broussard, LCSW
"Do not drink the poison of history." – Robert Caldwell, CPA
"Ever upward!" – Annie Deaver-Dabney, LMSW
What are your mantras for the new year?

Check out The Science of Self Improvement to learn valuable tools and techniques to help improve yourself on a daily basis.
Related posts: