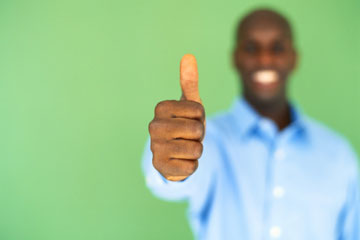 Nonverbal communication is the process of sending and receiving messages between two or more people without the use of words.
We can communicate in a variety of nonverbal ways including through our posture, gestures, facial expressions, touch, eye contact, and vocal intonation.
Research suggests that nonverbal communication makes up over 60-70% of all that we communicate. In other words, how we say something is often more important than what we say.
Building relationships and social skills is therefore very dependent on our understanding of nonverbal communication, including our ability to accurately send the right social cues, as well as accurately receive the social cues others are sending us on a daily basis.
Communication is always a two-way street. We play the role of "giver" and "receiver" in every social interaction of everyday. And nonverbal communication is no different.
One of the most important things to know about nonverbal communication is that a lot of it happens unconsciously.
For example, we may not realize it, but when we are lying about something we tend to not look at someone in their eyes very much. We don't do it purposely, it's just something that happens naturally when we are trying to hide something.
By being more aware of other people's nonverbal cues, we can gain a clearer understanding of what a person is really communicating to us.
And by being more aware of our own nonverbal cues, we can gain a clearer understanding of how to communicate more effectively and congruently.
The following sections in this article describe the main ways we communicate nonverbally. However, before we get started, I should point out that these are only guidelines.
There are a lot of reasons why people may act out certain behaviors – and not every behavior is necessarily a nonverbal signal.
For example, a person with their arms and legs crossed may be reserved or shy, or it could also mean that they are just cold.
Nonverbal communication can vary greatly depending on the person and the situation. Culture too can play a big role in differences in nonverbal communication.
It's important to keep all of these factors in mind whenever reading body language. Remember, there are no concrete rules on what a particular behavior may signify – only general guidelines.
The last section in this article will provide exercises you can do to practice using body language more effectively in your real world social interactions.

Posture
Our posture is just one aspect of nonverbal communication that can signal a message about our personality and our mood.
Generally, an upright position while standing up, sitting, or walking is a sign of attentiveness and confidence, while a downward position is a sign of fatigue, boredom, or low confidence.
There are many different types of postures depending on what we do with our arms, legs, hands, shoulders, back, etc.
A closed body stance, where our arms or legs are crossed, is often seen as less socially engaging and less inviting than an open body stance, where our arms or legs are open and relaxed.
Here are some visual examples of the different ways our posture can communicate our mood. Ask yourself what is being communicated when you see each posture: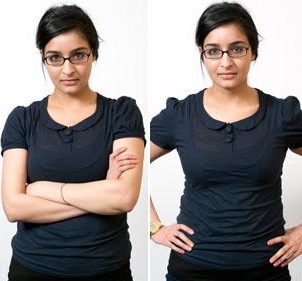 To me the first picture with the crossed arms and slouched neck comes off as annoyed, upset, or closed off. And the second picture with the open arms and upright neck appears more confident, engaged, or even authoritative.
This is just one visual example of how small changes in our posture can make a big difference in how people perceive us.
Next time you're watching people interact – on TV, in a movie, or in real life – make note of their postures and how that contributes to what they are communicating to the world.
We can learn a lot about nonverbal communication by watching how others use it in their everyday life (I'll elaborate more on this in a later section of this article).
You can also practice improving your own posture by using a full-length mirror. This is a great way to monitor your posture (while walking, sitting, or standing) and correct things you may find off-putting.
In addition, exercises like stretching and yoga can be especially useful for improving your body awareness and helping your body move more confidently and fluently.
Make note of your posture throughout the day and ask yourself what it is you're broadcasting to others.

Gestures
Another big part of nonverbal communication are the gestures we make while interacting with others. A gesture is often a quick movement by our hands, face, or some other body part.
The average person knows hundreds of different gestures that they use on a daily basis depending on the person, situation, and what they are trying to communicate.
For example, common gestures we use include:
Waving "hi" with our hand when we first see someone.

Giving a thumbs up when someone does something good.

Making an "okay sign" when we give someone permission to do something.

Nodding "yes" or shaking our head "no."

Making a clenched fist when threatening someone.

Giving the middle finger when we are angry at someone.

Using a choking sign when we are choking on a piece of food.

Tilting our head to the side when we are confused.
These are just some of the many gestures we use all of the time.
Some people become well-known for creating their own unique gestures, such as "Tebowing" used by the football player Tim Tebow as a form of celebration and gratitude. Or the "Clinton thumb" used by former President Bill Clinton whenever he wanted to emphasize something in one of his speeches.
For the rest of the day, pay attention to the gestures people use when they communicate to you – and the gestures you use when communicating to others. You'll find they are an unavoidable facet of almost every social interaction. We practically can't communicate without them.

Facial expressions
Facial expressions are another important part of how we communicate to others.
Many times our facial expressions reflect the emotions we are feeling in that moment. And evolutionary psychologists believe this was a key adaptation in social species who rely heavily on understanding the thoughts and feelings of others in order to cooperate and survive.
Here is a picture chart (created by psychologist David Matsumoto) of the facial expressions behind basic emotions like joy, surprise, contempt, sadness, anger, disgust, and fear: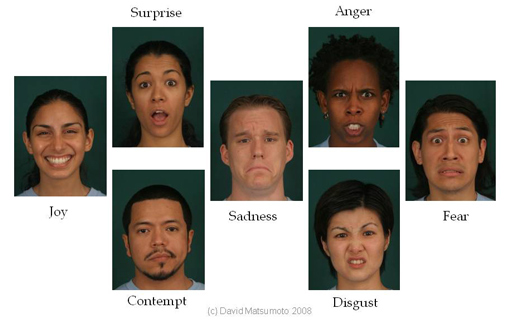 Microexpressions are a type of facial expression that happen unconsciously and only last between 1/25 to 1/15 of a second.
They happen extremely fast, but if you learn to catch them they can reveal a lot about what a person is actually thinking or feeling – even when they are trying to hide something.
Facial expressions are one of the most revealing ways we communicate to others. Pay attention to people's faces more and you'll learn a world of information about what is actually going on in their minds.

Tone of voice
How we speak is a form of nonverbal communication because it isn't about the words we use, but how we say them.
Different characteristics of our voice can say a lot about what we are communicating. Two people can recite the same set of words, but their volume, pitch, speed, rhythm, tone, and emphasis can completely alter the message that is being conveyed.
For example:
Speaking at a really low volume can be seen as shy, reserved, or untrustworthy, while speaking at a high volume can be seen as confident and outgoing.

Speaking in a high pitched voice can sound more submissive and weak, while speaking in a low pitched voice sounds more authoritative and strong. This effect has been found to be particularly relevant to male speakers

Speaking too fast can make someone seem nervous or as if they are trying to hide something. And speaking too low can come off as stupid or condescending. It's important to find an appropriate speed. Previous research has shown that speaking at around 3.5 words per second has shown to be the most effective rate of speaking.

Speaking with a different tone of voice can change the meaning of a sentence. Take three simple words like "I love you" and imagine the different ways people can say it and the different meanings being conveyed. A serious and heartfelt tone can be a sign of intimacy, but a joking or playful tone may just be a sign of friendship. And if you say "I love you" sarcastically, it can even sound hateful.

Speaking with an emphasis on certain words can also make a big difference in meaning. For example, the sentence "I never said she stole my money" changes meaning each time you emphasize a different word. Speaking it out loud – each time emphasizing a different word – and hear the difference for yourself.

Speaking with a healthy amount of pauses has found to be more effective than speaking without any pauses. This is because pauses give the listener a short break to process what you're saying. According to research, people prefer speech with about 4 to 5 pauses a minute.

Speaking with a healthy amount of animated speech is better than speaking monotone. That means it's actually good to have changes in volume, pitch, speed, rhythm, tone, and emphasis, and pauses depending on what it is you're trying to communicate. For example, an unusually long pause can create suspense, or a change in pitch or volume can keep the listener engaged and interested. On the other hand, too much animation in speech can also come off artificial and off-putting, so this is something where each person needs to find their own balance.
Tone of voice communicates a lot more than we realize, so it's extra important to pay attention to how we speak to others. Often we may think we are saying the right things, but if our tone of voice doesn't match up than people will see through it.