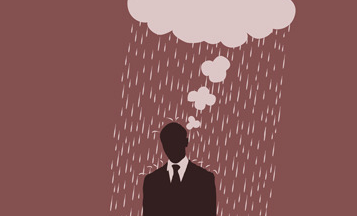 One big indicator of mental health is not fearing any single thought you may have.
It's easy to become obsessed with our thoughts – especially what we consider "negative thinking." We try to wrestle with these negative thoughts inside our heads, or push them down so they just go away and we no longer have to think about them anymore.
But this aversion to "negative thinking" is actually a tremendous weakness.
If I'm being honest with myself, I've engaged in a lot of "negative thinking" over the course of my life. And many thoughts I've had were just downright scary, grotesque, and obscene – thoughts I probably wouldn't want to share with anyone.
I used to believe that I had to completely eradicate this type of thinking from my life. I saw every negative thought as a symptom of my corrupt and sick mind, and I kept trying to find a cure so I'd never think a negative thought again.
However, my perspective on "negative thinking" has changed a lot since that time.
What I've come to realize is that it isn't always the content of my thinking that needs to be fixed or changed, but my response to my thinking that makes all of the difference.